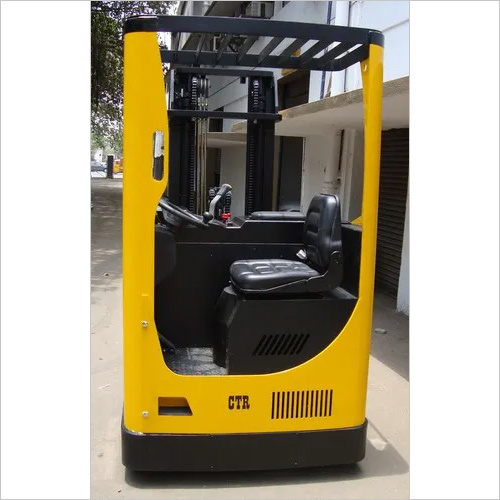 Reach Lift Trucks
Product Description
We are introducing an efficient range of Reach Lift Trucks. These are forklifts which are widely utilized in warehouses and similar places for catering narrow aisle applications. The trucks have a pair of outer legs that assist in distributing the load, and a single set of wheel in the back. These have the ability to work continuously without any malfunctioning. The trucks have made the movement of several bulky goods much easier and help in saving a lot of effort and time. The Reach Lift Trucks can work ideally well in all kind of warehouse environment. These offer easier handling.
Features of Reach Lift Trucks:
Provide safe functioning owing to multiple automatic features.
Work by consuming less power.
Have standard load capacity and lift heights.
Appropriate for drive-in racking, block stacking as well as long load handling.
Technical Specification
Model

CRL1

CRL2

CRL3

CRL3H

Capacity

1000

1500

2000

2000

Total Lift Height

3000/5000/6200

3000/5000/6200

3000-9500

10200/11100/12000

Max. Mast Height

3800/5800/7000

3800/5800/7000

3800-10300

12800

Min. Mast Height

2086/2240/2640

2086/2240/2640

2086-3890

4190/4490/4790

Ground Clearance

80

80

80

80

Fork Dimensions

1070 x 100 x 36

1070 x 100 x 40

1070 x 120 x 40

1070 x 120 x 40

Turning radius

1700

1700

1820

1920

Overall width

1020

1100

1260-1510

1510

Lifting speed
(laden/unladen)

0.19/0.20

0.19/0.21

0.19/0.22

0.24/0.30

Battery V/Ah

48/400

48/400

48/500

48/500

Operator

Standing

Standi \Seate

Seated

Seated

Service weight

2100/2500 /2600

2300/2700 /2800

3300-4240

4840